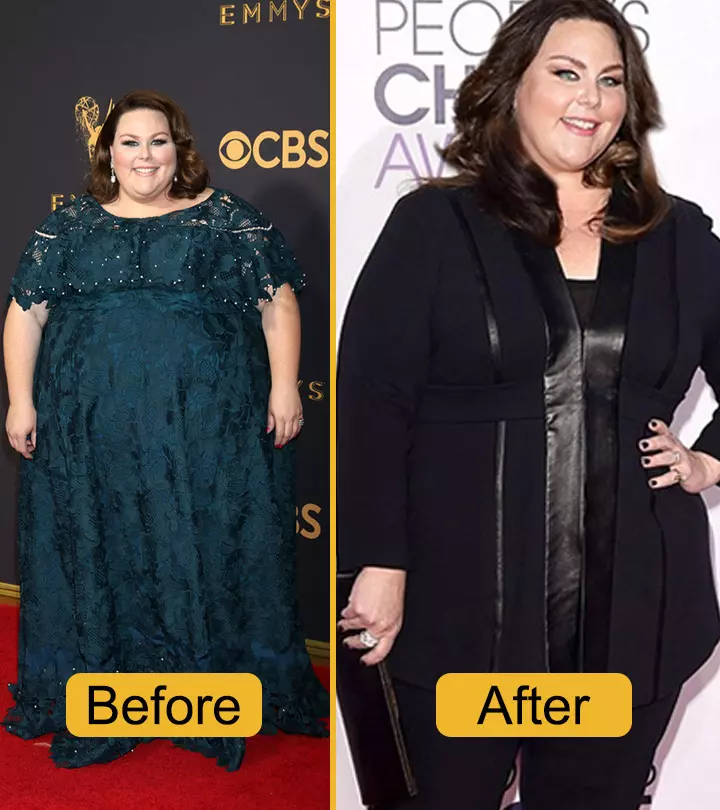 Chrissy Metz is one of today's biggest advocates for body positivity and self-love, but she had to overcome a lot of her own struggles first. In an interview with Good Housekeeping, the This Is Us star says she's long struggled with self-acceptance and spent many years working on her mental and physical health.
After a "tumultuous" upbringing, growing up poor and withstanding emotional abuse, Metz said that therapy was "key" to her growth. "We have to talk about our feelings, and I physically have been stuffing them all my life," she told GH. Metz has since learned to love her body and put herself first. "There's a reason I went through all these things: to become the person I am and to accept myself through it all."
Today, the 39-year-old actress has learned to love the skin she's in. Here's everything Metz has said about her weight loss transformation and her journey towards self love and health.
1. "I was born chubby."
Metz said she was overweight as a child. "I was born chubby and as I got older at different times in my life I was thinner or more active or playing sports, but I was definitely always a chubbier kid," she told The Hollywood Reporter. "My friends could eat whatever they wanted to but I knew that as a kid if I ate certain things I would totally gain weight. I had to be really cognizant." The This Is Us star said she went to Weight Watchers when she was around 11 years old. "I was the youngest person in the damned room and it was awkward. My mom was trying to figure it out, but it's a process," she said.
2. "Food was my only happiness."
Metz grew up in Gainesville, FL, with her mother, stepfather, and four siblings. In her memoir, This Is Me: Loving the Person You Are Today, the actress opened up about her relationship to her father, saying that her body "seemed to offend him." "He couldn't help but stare, especially when I was eating. He joked about putting a lock on the refrigerator," Metz wrote in her book, per CNN. "We had lived with a lack of food for so long that when it was there, I felt like I had to eat it before it disappeared. Food was my only happiness."
3. "I'd be getting maybe two auditions a year, and I'd always see the same small group of girls."
After graduating college, a 21-year-old Metz worked as a preschool teacher when she decided to go to an open casting call with her sister. She sang Christina Aguilera's "Beautiful" and, the next day, she was offered the opportunity to go to L.A. to meet with agents. She would travel back and forth from Florida until 2006, when she moved there for good to become her agent's assistant, even though she desperately wanted to become an actor.
"Scheduling auditions for the talent was like watching your boyfriend take out another woman every single day," she told Harper's Bazaar of the job. Metz had just eight acting jobs between 2005 and 2014, and she felt her weight had something to do with it. "I'd be getting maybe two auditions a year, and I'd always see the same small group of girls," she told People. The This Is Us star fell into depression and began "eating her feelings." The star gained 100 pounds by the time she approached 30.
4. "I was so gung ho, I lost 100 lbs. in less than five months."
At Metz's 30th birthday party, she had a health scare that motivated her to make some changes. She felt heart palpitations and went to the hospital, skipping her party. "I'm like, What is this? Am I dying? What's happening?" she told People in 2016. Her doctors told her that she had a panic attack and warned her about her weight. "' You can't continue on this path,'" they said.
This was a wakeup call to Metz. "I'm like, 'Oh, this is not just a physical thing. It's like a soul/spirit/mind/body collective thing. Not everything's connecting,'" she recalled, adding that she overhauled her lifestyle. "I was so gung ho, I lost 100 lbs. in less than five months," she said. "All I did was eat a 2,000-calorie diet and walk 20 minutes a day."
5. "What if I become that heavy and can't walk around or get stuck in the doorframe?"
In 2014, Metz snagged a major role in American Horror Story playing Ima Wiggles, a.k.a. The Fat Lady. As excited as she was for the role, she had to wear a fat suit, which altered her outlook. "It was sobering," she told People. "I thought, 'What if I become that heavy and can't walk around or get stuck in the doorframe? I was like, 'I don't want this for me.'"
6. "Whether or not I lose weight or stay the same, it's purely a choice of mine for health."
A then 35-year-old Metz was considering giving up her dream and moving home to Florida, when her success didn't take off after American Horror Story. But in 2016, she landed the role of Kate in This Is Us. She reviewed her character's story arc and learned that her contract requires her to lose weight, which she was happy about.
"That was a win-win for me. Because it's one thing to try to do it on your own," she told TVLine. "But as human beings, it's an ego thing: We're more likely to do something for someone else. I just have to be very clear. Whether or not I lose weight or stay the same, it's purely a choice of mine for health. Not because I think that plus-size, curvy, voluptuous, big bodies aren't attractive—because I think they're awesome and sexy."